New VilaBranca Designer Townhouse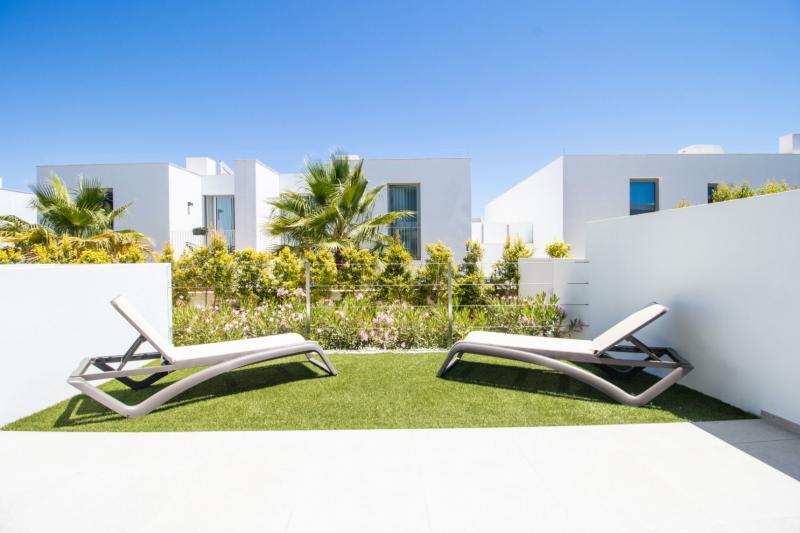 Stunning 3-bedroom townhouse in the brand new VilaBranca condominium, finished to a superb standard and beautifully furnished.
This contemporary luxury 3-bedroom, 2.5-bathroom 2 floor townhouse is ideally located close to several fabulous beaches (including Porto De Mos, Dona Ana, and Camilo) and Lagos Old Town centre, all within walking distance.

The apartment's spacious terrace (south-east facing) offers both shade and sun in your own private area for relaxation. The gated terrace also benefits from access to the shared pool area ensuring a cooling dip is just a few steps away.

The kitchen is fully equipped with all modern conveniences including electric hob and oven, washing machine & dishwasher. For your morning coffee, you have a choice of filter, capsule or french press! The open-plan living space has extra large patio doors to the terrace making it bright and and has a dining area as well as sofas and a flat-screen smart TV.

The three spacious bedrooms - master bedroom with a double bed and en-suite bathroom, as well as a further double and a twin bedroom which share a separate shower room - are all beautifully furnished with ample storage space. The property has a hairdryer in both bathrooms.

Free parking is available right outside the property.

Note that there is currently construction near to the pool area but that this property is set away.


From:
€900/week
RATES:
Low Season: €900/week
Mid Season: €950/week
High Season: €1,200/week
Peak Season: €1,800/week
Nº Licença Alojamento:
135363/AL
Nº Licença Habitação:
94/2022
GPS (decimal degrees):
37.090403, -8.678305
GPS (dms):
+37º 5' 25.4508'', -8º 40' 41.898''
ENQUIRE NOW
BOOKING REQUEST
PROPERTY MAP
ENERGY RATING: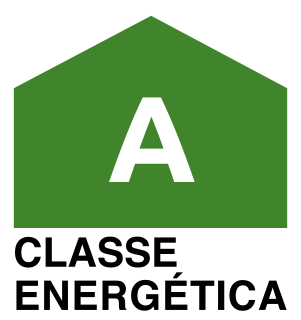 PROPERTY FEATURES:
Construction Area: 138m2
Equipped Kitchen
Air Conditioning
Private Patio
Roof Terrace
Fitted Wardrobes
Furnished
Balcony
Beach towels
Swimming Pool: Shared
Terrace
Heating: Underfloor
Iron & Ironing Board
Walking distance to amenities
Coffee Maker: Filter, Capsule, French Press
Microwave
Walking distance to the beach
Dishwasher
Washing Machine
Double Glazing
WiFi Internet - High Speed (Fibre)
En-suite bathroom
Availability
September 2023
S
M
T
W
T
F
S

1

2

3

4

5

6

7

8

9

10

11

12

13

14

15
16

17

18

19

20

21

22

23

24

25

26

27

28

29

30
October 2023
S
M
T
W
T
F
S

1

2

3

4

5

6

7

8

9

10

11

12

13

14

15

16

17

18

19

20

21

22

23

24

25

26

27

28

29

30

31
November 2023
S
M
T
W
T
F
S

1

2

3

4

5

6

7

8

9

10

11

12

13

14

15

16

17

18

19

20

21

22

23

24

25

26

27

28

29

30
December 2023
S
M
T
W
T
F
S

1

2

3

4

5

6

7

8

9

10

11

12

13

14

15

16

17

18

19

20

21

22

23

24

25

26

27

28

29

30

31
January 2024
S
M
T
W
T
F
S

1

2

3

4

5

6

7

8

9

10

11

12

13

14

15

16

17

18

19

20

21

22

23

24

25

26

27

28

29

30

31
February 2024
S
M
T
W
T
F
S

1

2

3

4

5

6

7

8

9

10

11

12

13

14

15

16

17

18

19

20

21

22

23

24

25

26

27

28

29
March 2024
S
M
T
W
T
F
S

1

2

3

4

5

6

7

8

9

10

11

12

13

14

15

16

17

18

19

20

21

22

23

24

25

26

27

28

29

30

31
April 2024
S
M
T
W
T
F
S

1

2

3

4

5

6

7

8
9
10
11
12
13
14
15
16
17
18
19
20
21
22
23
24
25
26
27
28
29
30
May 2024
S
M
T
W
T
F
S
1
2
3
4
5
6
7
8
9
10

11

12

13

14

15

16

17

18

19

20

21

22

23

24

25
26
27
28
29
30
31
June 2024
S
M
T
W
T
F
S

1

2

3

4

5

6

7

8

9

10

11

12

13

14

15

16

17
18
19
20
21
22
23
24
25
26
27
28
29
30
July 2024
S
M
T
W
T
F
S
1
2
3
4
5
6
7
8
9
10
11
12
13
14
15
16
17
18
19
20
21
22
23
24
25
26
27
28
29
30
31
August 2024
S
M
T
W
T
F
S
1
2
3
4
5
6
7
8
9
10
11
12
13
14
15
16
17
18
19
20
21
22
23
24
25
26
27
28
29
30
31
Enquire about this property / Booking Request