Quinta das Palmeiras 1 Bedroom penthouse apartment lt.9 (KN)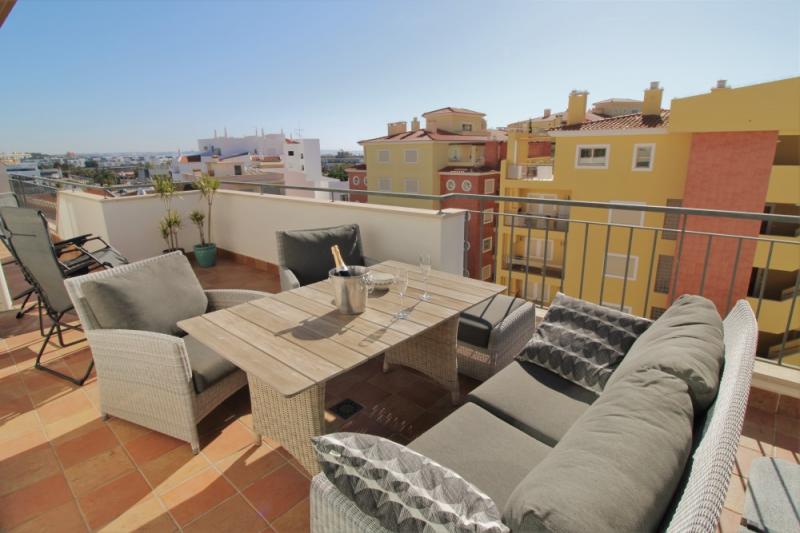 Beautiful 1 bedroom penthouse apartment in the Quinta das Palmeiras complex, indoor and outdoor pool, gym and play area, close to supermarkets and walking distance to restaurants and beaches.
Quinta das Palmeiras apartments are much sought-after rental properties due to their central location, facilities, and high quality interiors. This particular apartment on the 5th floor is in a great position with open aspect and south facing balcony for all day sun, and finished to a high standard.

With 1 bedroom and 1 bathroom, this super apartment would be comfortable for couples or a small family. The master double bedroom is spacious and leads onto the large terrace, running the length of the apartment. The living room has a sofa bed for children.

From the kitchen and living room you can access the long balcony with dining table for 4. The kitchen is well equipped with all appliances. There is A/C in the bedrooms and living room, cable TV and WiFi are installed and electric window shutters.

Available for holiday rentals with weekly prices which include weekly cleaning and linen changes, WiFi, & A/C.

Also available for long term winter lets at €800 per month (minimum 3 months November to March, 6 month rental possible October to March) plus water + gas + electricity. Cleaning service can be supplied subject to charge. Strictly no pets, sorry.


From:
€500/week
SPECIAL OFFERS:
10% discount on bookings From 4th Sep 20 To 30th Sep 20
RATES:
Low Season: €500/week
Mid Season: €600/week
High Season: €700/week
Peak Season: €850/week
Titular da Exploração do Estabelecimento:
Kjell Anders Norberg
Nº Licença:
103429/AL
GPS (decimal degrees):
37.106908, -8.678026
GPS (dms):
+37º 6' 24.8688'', -8º 40' 40.8936''
ENQUIRE NOW
BOOKING REQUEST
PROPERTY MAP
PROPERTY FEATURES:
Air Conditioning
Balcony
BBQ
Beach towels
Swimming Pool: Shared, Indoor
Cable TV
Gymnasium
Hairdryer
Iron & Ironing Board
Central Vacuum
View: Marina
Childrens Play area
Walking distance to amenities
Microwave
Close to Town
Walking distance to the beach
Coffee Maker
Washing Machine
Dishwasher
WiFi Internet Access
Electric Shutters
Parking: Parking Space In Communal Garage
Availability
September 2020
S
M
T
W
T
F
S

1

2

3

4

5

6

7

8

9

10

11

12

13

14

15

16

17

18

19

20

21

22

23

24

25

26

27

28

29

30
October 2020
S
M
T
W
T
F
S

1

2

3

4

5

6

7

8

9

10

11

12

13

14

15

16

17

18

19

20

21

22

23

24

25

26

27

28

29

30

31
November 2020
S
M
T
W
T
F
S

1

2

3

4

5

6

7

8

9

10

11

12

13

14

15

16

17

18

19

20

21

22

23

24

25

26

27

28

29

30
December 2020
S
M
T
W
T
F
S

1

2

3

4

5

6

7

8

9

10

11

12

13

14

15

16

17

18

19

20

21

22

23

24

25

26

27

28

29

30

31
January 2021
S
M
T
W
T
F
S

1

2

3

4

5

6

7

8

9

10

11

12

13

14

15

16

17

18

19

20

21

22

23

24

25

26

27

28

29

30

31
February 2021
S
M
T
W
T
F
S

1

2

3

4

5

6

7

8

9

10

11

12

13

14

15

16

17

18

19

20

21

22

23

24

25

26

27

28
March 2021
S
M
T
W
T
F
S

1

2

3

4

5

6

7

8

9

10

11

12

13

14

15

16

17

18

19

20

21

22

23

24

25

26

27

28

29

30

31
April 2021
S
M
T
W
T
F
S

1

2

3

4

5

6

7

8

9

10

11

12

13

14

15

16

17

18

19

20

21

22

23

24

25

26

27

28

29

30
May 2021
S
M
T
W
T
F
S

1

2

3

4

5

6

7

8

9

10

11

12

13

14

15

16

17

18

19

20

21

22

23

24

25

26

27

28

29

30

31
June 2021
S
M
T
W
T
F
S
1
2
3
4

5

6

7

8

9

10

11

12

13
14
15
16
17
18
19
20
21
22
23
24
25
26
27
28
29
30
July 2021
S
M
T
W
T
F
S
1
2
3
4
5
6
7
8
9
10
11
12
13
14
15
16
17
18
19
20
21
22
23
24
25
26
27
28
29
30
31
August 2021
S
M
T
W
T
F
S
1
2
3
4
5
6
7
8
9
10
11
12
13
14
15
16
17
18
19
20
21
22
23
24
25
26
27
28
29
30
31
Enquire about this property / Booking Request