Marina Village 3 bedroom Terrace Apartment lt.2- RCA (ML-0A)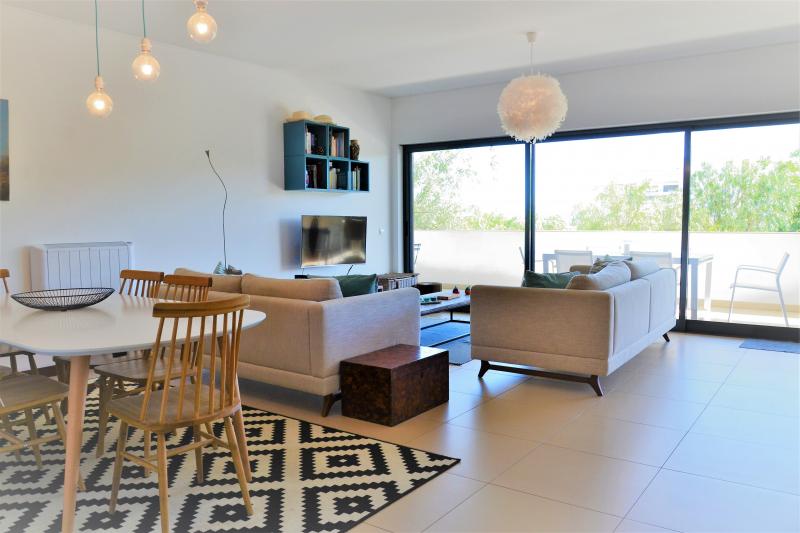 Stunning, spacious apartment, 135 m2 with superb 95 m2 terrace, overlooking the tranquil pool and gardens and only 10-15 min walk to Meia Praia Beach, the Marina and its restaurants.
This upscale accommodation is perfect for couples and families in a very quiet condominium. Furnished with a Scandinavian design, with many thoughtful touches to make your holiday extra special. The master bedroom has a double bed and en-suite bathroom, the other 2 bedrooms have 2 single beds each and share the family bathroom with walk-in shower.

Facing south-east and with a view over the beautiful garden with swimming pool, the private terrace is like an extension of the property and beautifully decorated with lots of seating and plants.

Smart TV with Netflix and high speed WiFi.

Allocated parking space in the basement garage.

The beach and restaurants are in easy reach, the supermarket is just 5 minutes by a footpath, and the old city of Lagos is a 20 min walk. Lagos is a delightful city with a charming old town centre full of independent shops, cafes, and wonderful restaurants.


From:
€700/week
RATES:
Low Season: €700/week
Mid Season: €800/week
High Season: €1,100/week
Peak Season: €1,450/week
Titular da Exploração do Estabelecimento:
Monique Lombard
Nº Licença:
49663/AL
GPS (decimal degrees):
37.115585, -8.672546
GPS (dms):
+37º 6' 56.106'', -8º 40' 21.1656''
ENQUIRE NOW
BOOKING REQUEST
PROPERTY MAP
PROPERTY FEATURES:
Air Conditioning
Beach towels
Swimming Pool: Shared
Cable TV
Hairdryer
Terrace
Iron & Ironing Board
Walking distance to amenities
Microwave
Coffee Maker
Washing Machine
Dishwasher
WiFi Internet Access
Parking: Parking Space In Communal Garage
Availability
August 2020
S
M
T
W
T
F
S

1

2

3

4

5

6

7

8

9

10

11

12

13

14

15

16

17

18

19

20

21

22

23

24

25

26

27

28

29

30

31
September 2020
S
M
T
W
T
F
S
1
2
3
4
5
6
7
8
9
10
11
12
13
14
15
16
17
18
19
20
21
22
23
24
25

26

27

28

29

30
October 2020
S
M
T
W
T
F
S

1

2

3

4

5

6
7
8
9
10
11
12
13
14
15
16
17
18
19
20
21
22
23
24
25
26
27
28
29
30

31
November 2020
S
M
T
W
T
F
S

1

2

3

4

5

6

7

8

9

10

11

12

13

14

15

16

17

18

19

20

21

22

23

24

25

26

27

28

29

30
December 2020
S
M
T
W
T
F
S

1

2

3

4

5

6

7

8

9

10

11

12

13

14

15

16

17

18

19

20

21

22

23

24

25

26

27

28

29

30

31
January 2021
S
M
T
W
T
F
S

1

2

3

4

5

6

7

8

9

10

11

12

13

14

15

16

17

18

19

20

21

22

23

24

25

26

27

28

29

30

31
February 2021
S
M
T
W
T
F
S

1

2

3

4

5

6

7

8

9

10

11

12

13

14

15

16

17

18

19

20

21

22

23

24

25

26

27

28
March 2021
S
M
T
W
T
F
S

1

2

3

4

5

6

7

8

9

10

11

12

13

14

15

16

17

18

19

20

21

22

23

24

25

26

27

28

29

30

31
April 2021
S
M
T
W
T
F
S

1

2

3

4

5

6

7

8

9

10

11

12

13

14

15

16

17

18

19

20

21

22

23

24

25

26

27

28

29

30
May 2021
S
M
T
W
T
F
S

1

2

3
4
5
6
7
8
9
10
11
12
13
14
15
16
17
18
19
20
21
22
23
24
25
26
27
28
29
30
31
June 2021
S
M
T
W
T
F
S
1
2
3
4
5
6
7
8
9
10
11
12
13
14
15
16
17
18
19
20
21
22
23
24
25
26
27
28
29
30
July 2021
S
M
T
W
T
F
S
1
2
3
4
5
6
7
8
9
10
11
12
13

14

15

16

17

18

19

20

21

22

23
24
25
26
27
28
29
30
31
Enquire about this property / Booking Request