The Pinhal Beach Apartment, Meia Praia, Lagos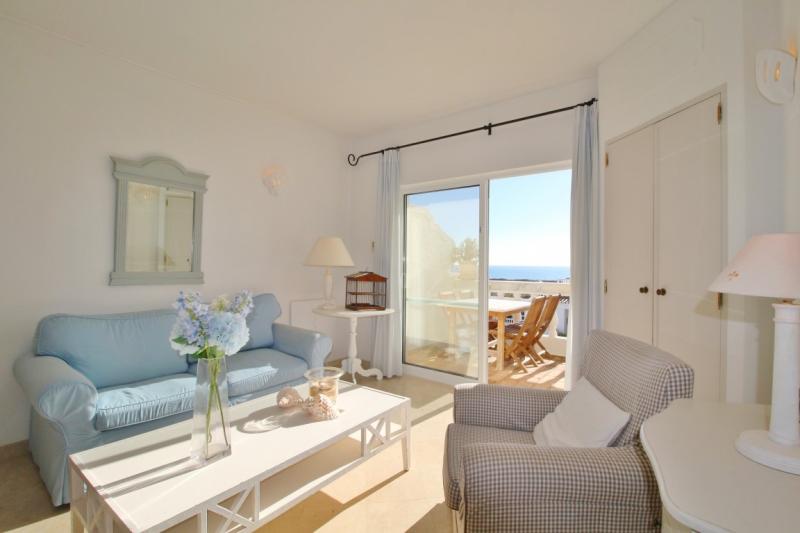 Charming 2 bedroom duplex apartment on the second line to the beach, with sea view and a short straight walk to the beach!
Dreaming of peace and quiet by the beach? Then it is time to book your break at The Pinhal Beach Apartment, unwind and recharge your batteries.

A charming 2 bedroom apartment, just a few meters from the Meia Praia Beach where you can enjoy a relaxed life. The property itself has a lot of natural light, spread on 2 floors with a south facing terrace and balcony paved with the iconic Portuguese Santa Catarina tiles.

On the entrance level, there is a fully equipped kitchen and a living/dining area with sliding doors which lead to a lovely balcony with an amazing sea view, just perfect to appreciate a fine end of the day with family or friends for "al-fresco" dining.

On the lower level are 2 double bedrooms with fitted wardrobes and a family bathroom. The master bedroom includes a toilet, a shower room and a private terrace with sea views. There is no air conditioning but the rooms are a nice cool temperature for sleeping.

The location is fabulous, less than 300m from soft golden sand of Meia Praia. An even shorter distance takes you to the wonderful revamped Gaivota Branca beach bar-restaurant (just in case making your own drinks and food is just too much for you!). Treat yourself to a day in the Spa at the 5 star Vila Gale Hotel, less than 5 minutes' walk away, or if you are feeling more energetic you can enjoy water sports at nearby Windsurf Point.

Meia Praia is not only great for soaking up the summer sun and enjoying the cool Atlantic but also for long invigorating winter beach walks.

Please note that balustrade on the balcony and surrounding the stairs make this property not suitable for young children.


From:
€600/week
RATES:
Low Season: €600/week
Mid Season: €600/week
High Season: €700/week
Peak Season: €900/week
Titular da Exploração do Estabelecimento:
Ralf-Michael Burkhardt
Nº Licença:
16960/AL
GPS (decimal degrees):
37.114663, -8.657783
GPS (dms):
+37º 6' 52.7868'', -8º 39' 28.0188''
ENQUIRE NOW
BOOKING REQUEST
PROPERTY MAP
PROPERTY FEATURES:
Private Patio
Balcony
Hairdryer
Terrace
Iron & Ironing Board
View: Sea
Close to Beach
Close to Town
Walking distance to the beach
Coffee Maker
Washing Machine
Dishwasher
Not suitable for young children
Double Glazing
WiFi Internet Access
Parking: On Street Parking
Availability
August 2020
S
M
T
W
T
F
S
1
2
3

4

5

6

7

8

9

10

11

12

13

14

15

16

17

18

19

20

21

22

23

24

25

26

27

28

29
30
31
September 2020
S
M
T
W
T
F
S
1
2
3
4
5
6
7
8
9
10
11
12
13
14
15
16
17
18
19
20
21
22
23
24
25
26
27
28
29
30
October 2020
S
M
T
W
T
F
S
1
2
3
4
5
6
7
8
9
10
11
12
13
14
15
16
17
18
19
20
21
22
23
24
25
26
27
28
29
30
31
November 2020
S
M
T
W
T
F
S
1
2
3
4
5
6
7
8
9
10
11
12
13
14
15
16
17
18
19
20
21
22
23
24
25
26
27
28
29
30
December 2020
S
M
T
W
T
F
S
1
2
3
4
5
6
7
8
9
10
11
12
13
14
15
16
17
18
19
20
21
22
23
24
25
26
27
28
29
30
31
January 2021
S
M
T
W
T
F
S
1
2
3
4
5
6
7
8
9
10
11
12
13
14
15
16
17
18
19
20
21
22
23
24
25
26
27
28
29
30
31
February 2021
S
M
T
W
T
F
S

1

2

3

4

5

6

7

8

9

10

11

12

13

14

15

16

17

18

19

20

21

22

23

24

25

26

27

28
March 2021
S
M
T
W
T
F
S

1

2

3

4

5

6

7

8

9

10

11

12

13

14

15

16

17

18

19

20

21

22

23

24

25

26

27

28

29

30

31
April 2021
S
M
T
W
T
F
S

1

2

3

4

5

6

7

8

9

10

11

12

13

14

15

16

17

18

19

20

21

22

23

24

25

26

27

28

29

30
May 2021
S
M
T
W
T
F
S

1

2

3

4

5

6

7

8

9

10

11

12

13

14

15

16

17

18

19

20

21

22

23

24

25

26

27

28

29

30

31
June 2021
S
M
T
W
T
F
S
1
2
3
4
5
6
7
8
9
10
11
12
13
14
15
16
17
18
19
20
21
22
23
24
25
26
27
28
29
30
July 2021
S
M
T
W
T
F
S
1
2
3
4
5
6
7
8
9
10
11
12
13
14
15
16
17
18
19
20
21
22
23
24
25
26
27
28
29
30
31
Enquire about this property / Booking Request