Marina Park beautiful 3 Bedroom Apt (GP804)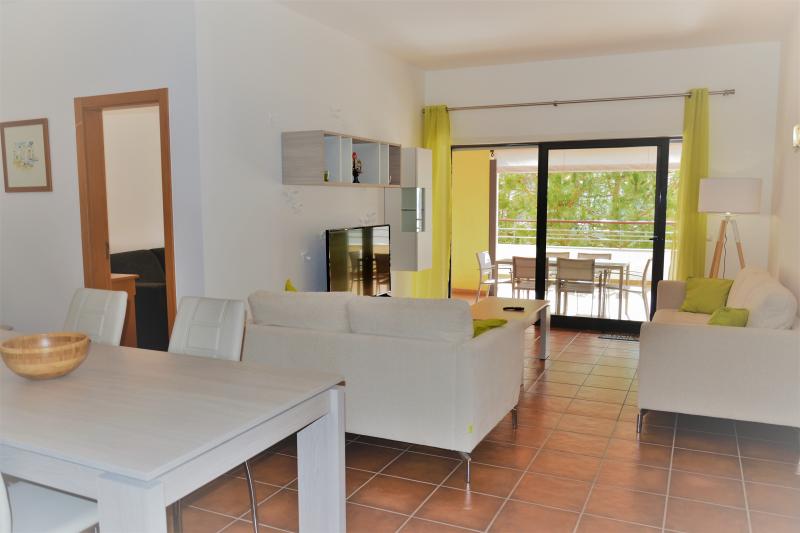 A spacious 3 bedroom apartment set in a modern development very close to the Marina and Meia Praia beach.
This newly renovated apartment has a large living & dining room area, a fully equipped kitchen with brand new appliances, 3 bedrooms with fitted wardrobes, 2 bathrooms (1 en-suite with a bath).

From the living room, the master bedroom, and the third bedroom there is direct access to a large balcony facing southwest, with sunlight till the end of the day which is ideal for "al fresco" dining. The master bedroom has a double bed, the second bedroom has 2 single beds, and the third bedroom has a sofa bed.

The apartment has air conditioning throughout, WiFi and cable TV and a parking space in the underground garage.

This development comprises of landscaped gardens, tennis courts, children´s play area and a large communal swimming pool.



From:
€600/week
SPECIAL OFFERS:
20% discount on bookings From 24th Jul 20 To 31st Aug 20
RATES:
Low Season: €600/week
Mid Season: €750/week
High Season: €900/week
Peak Season: €1,200/week
Titular da Exploração do Estabelecimento:
Anne-Lise PORTELA
Nº Licença:
92080/AL
GPS (decimal degrees):
37.117351, -8.668937
GPS (dms):
+37º 7' 2.4636'', -8º 40' 8.1732''
ENQUIRE NOW
BOOKING REQUEST
PROPERTY MAP
PROPERTY FEATURES:
Air Conditioning
Balcony
Suitable for Children
Swimming Pool: Shared, Childrens
Tennis Court
Iron & Ironing Board
Walking distance to amenities
Microwave
Walking distance to resort facilities
Walking distance to the beach
Coffee Maker
Washing Machine
Dishwasher
WiFi Internet Access
Parking: Parking Space In Communal Garage
Availability
August 2020
S
M
T
W
T
F
S

1

2

3

4

5

6

7

8

9

10

11

12

13

14

15

16

17

18

19

20

21

22

23

24

25

26

27

28

29

30
31
September 2020
S
M
T
W
T
F
S
1
2
3
4
5
6
7
8
9
10
11
12
13
14
15
16
17
18
19
20
21
22
23
24
25
26
27
28
29
30
October 2020
S
M
T
W
T
F
S
1
2
3
4
5
6
7
8
9
10
11
12
13
14
15
16
17
18
19
20
21
22
23
24
25
26
27
28
29
30
31
November 2020
S
M
T
W
T
F
S
1
2
3
4
5
6
7
8
9
10
11
12
13
14
15
16
17
18
19
20
21
22
23
24
25
26
27
28
29
30
December 2020
S
M
T
W
T
F
S
1
2
3
4
5
6
7
8
9
10
11
12
13
14
15
16
17
18
19
20
21
22
23
24
25
26
27
28
29
30
31
January 2021
S
M
T
W
T
F
S
1
2
3
4
5
6
7
8
9
10
11
12
13
14
15
16
17
18
19
20
21
22
23
24
25
26
27
28
29
30
31
February 2021
S
M
T
W
T
F
S
1
2
3
4
5
6
7
8

9

10

11

12

13

14

15

16

17

18

19

20

21

22

23

24

25

26

27

28
March 2021
S
M
T
W
T
F
S

1

2

3

4

5

6

7

8

9

10

11

12

13

14

15

16

17

18

19

20

21

22

23

24

25

26

27

28

29

30

31
April 2021
S
M
T
W
T
F
S

1

2

3

4

5

6

7

8

9

10

11

12

13

14

15

16

17

18

19

20

21

22

23

24

25

26

27

28

29

30
May 2021
S
M
T
W
T
F
S

1

2

3

4

5

6

7

8

9

10
11
12
13
14
15
16
17
18
19
20
21
22
23
24
25
26
27
28
29
30
31
June 2021
S
M
T
W
T
F
S
1
2
3
4
5
6
7
8
9
10
11
12
13
14
15
16
17
18
19
20
21
22
23
24
25
26
27
28
29
30
July 2021
S
M
T
W
T
F
S
1
2
3
4
5
6
7
8
9
10
11
12
13
14
15
16
17
18
19

20

21

22

23

24

25

26

27

28

29

30

31
Enquire about this property / Booking Request