Albasul - chic apt close to Meia Praia beach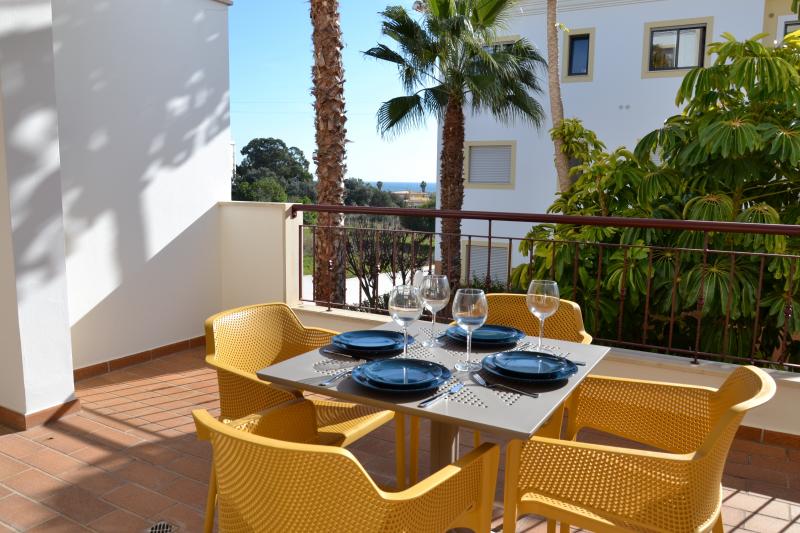 Beautiful spacious apartment, newly redecorated and furnished, available for holidays and long term winter lets. Walking distance to Marina de Lagos and Meia Praia beach.
This is a lovely sunny apartment, stylishly furnished, in a well-maintained gated condo with parking and pool.

Enjoy time at the shared swimming pool which has loungers for sunbathing and also a children's pool.

The combined living / dining room, the kitchen, and the bedroom all lead out to the balcony. From the large south-facing balcony which overlooks the pool area, you can relax with a view of the sea in the distance. The living room has a sofa bed which can sleep up to 2 children. The kitchen is very well equipped and has a small breakfast table. The bedroom has a large double bed and plenty of wardrobe space. The bathroom has a bath with shower over, and heated towel rail.

The apartment is equipped with cable TV and WiFi.

For winter stays, the apartment has gas central heating.


From:
€500/week
SPECIAL OFFERS:
25% discount on bookings From 21st Jul 20 To 31st Aug 20
RATES:
Low Season: €500/week
Mid Season: €600/week
High Season: €650/week
Peak Season: €775/week
Titular da Exploração do Estabelecimento:
Joanna Agnieszka Madalinska
Nº Licença:
89299/AL
GPS (decimal degrees):
37.115017, -8.668089
GPS (dms):
+37º 6' 54.0612'', -8º 40' 5.1204''
ENQUIRE NOW
BOOKING REQUEST
PROPERTY MAP
PROPERTY FEATURES:
Private condominium - walled and gated
Balcony
Golf nearby
Beach towels
Suitable for Children
Swimming Pool: Shared, Childrens
Hairdryer
Car Recommended
Iron & Ironing Board
Video Entry System
Walking distance to amenities
Close to Beach
Microwave
Walking distance to the beach
Coffee Maker
Washing Machine
Dishwasher
WiFi Internet Access
Parking: Parking Space In Communal Garage
Availability
August 2020
S
M
T
W
T
F
S
1
2
3
4
5
6
7

8

9

10

11

12

13

14

15

16

17
18
19
20
21

22

23

24

25

26

27

28

29

30

31
September 2020
S
M
T
W
T
F
S
1
2
3
4
5
6
7
8
9
10
11
12
13
14
15
16
17
18
19
20
21
22
23
24
25
26
27
28
29
30
October 2020
S
M
T
W
T
F
S
1
2
3
4
5
6
7
8
9
10
11
12
13
14
15
16
17
18
19
20
21
22
23
24
25
26
27
28
29
30
31
November 2020
S
M
T
W
T
F
S
1
2
3
4
5
6
7
8
9
10
11
12
13
14
15
16
17
18
19
20
21
22
23
24
25
26
27
28
29
30
December 2020
S
M
T
W
T
F
S
1
2
3
4
5
6
7
8
9
10
11
12
13
14
15
16
17
18
19
20
21
22
23
24
25
26
27
28
29
30
31
January 2021
S
M
T
W
T
F
S
1
2
3
4
5
6
7
8
9
10
11
12
13
14
15
16
17
18
19
20
21
22
23
24
25
26
27
28
29
30
31
February 2021
S
M
T
W
T
F
S
1
2
3
4
5
6
7
8
9
10
11
12
13
14
15
16
17
18
19
20
21
22
23
24
25
26
27
28
March 2021
S
M
T
W
T
F
S
1
2
3
4
5
6
7
8
9
10
11
12
13
14
15
16
17
18
19
20
21
22
23
24
25
26
27
28
29
30
31
April 2021
S
M
T
W
T
F
S
1
2
3
4
5
6
7
8
9
10
11
12
13
14
15
16
17
18
19
20
21
22
23
24
25
26
27
28
29
30
May 2021
S
M
T
W
T
F
S
1
2
3
4
5
6
7
8
9
10
11
12
13
14
15
16
17
18
19
20
21
22
23
24
25
26
27
28
29
30
31
June 2021
S
M
T
W
T
F
S
1
2
3
4
5
6
7
8
9
10
11
12
13
14
15
16
17
18
19
20
21
22
23
24
25
26
27
28
29
30
July 2021
S
M
T
W
T
F
S
1
2
3
4
5
6
7
8
9
10
11
12
13
14
15
16
17
18
19
20
21
22
23
24
25
26
27
28
29
30
31
Enquire about this property / Booking Request