Casa da Carpinteira, Lagos Old Town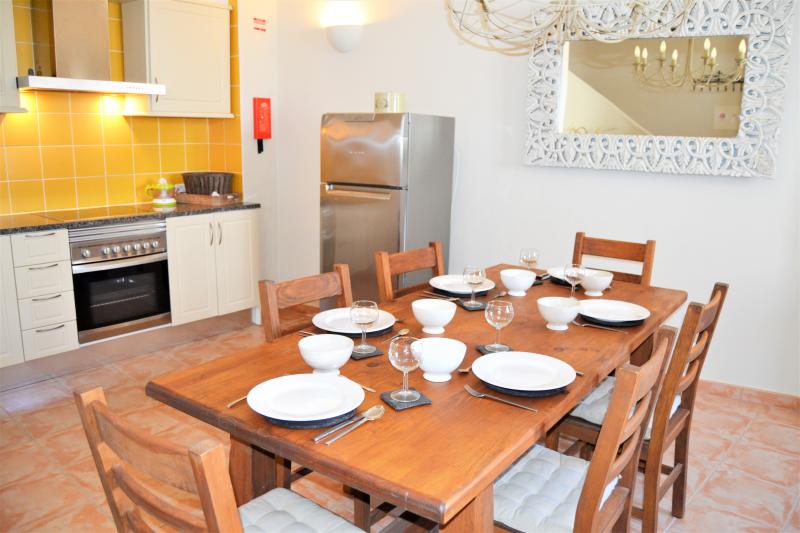 Beautifully renovated traditional 3 bedroom townhouse situated right in the heart of the historic Lagos old town wit all the shops, cafes and restaurants at the doorstep.
If exploring the local area is your favourite past time on holiday, then look no further; this house is the perfect base, never more than a couple of minutes' walk from the beaches, shops and restaurants.

Located on a peaceful street in the historic old town, this renovated carpenter's workshop has been transformed into a beautiful holiday escape with three bedrooms.

On the 2nd floor there is the master bedroom with Air-conditioning and an en-suite bathroom and with it's own private terrace overlooking the town, perfect for enjoying a good book and drink before going out for dinner in one of the many quality restaurants Lagos has to offer.

Downstairs is a spacious living and dining area with a modern fitted kitchen and a comfortable sofa for relaxing after a busy day at the beach or sightseeing. The TV has Portuguese and German channels, BBC World news and a range of entertainment channels via cable TV. The WiFi has been also installed.

Up on the 1st floor is the twin bedroom, shower-room and the extra room with the 1.9m bed and trundle which pulls out from under it.

This house would be great for two couples holidaying together, or a family with up to four children.

Feel the relaxing vibe of this lovely Portuguese holiday town of Lagos when staying in Casa Carpinteira!

Please note there is currently a construction in the proximity of the house.




From:
€700/week
RATES:
Low Season: €700/week
Mid Season: €800/week
High Season: €900/week
Peak Season: €1,250/week
Nº Licença Alojamento:
5661/AL
GPS (decimal degrees):
37.100716, -8.674585
GPS (dms):
+37º 6' 2.5776'', -8º 40' 28.506''
ENQUIRE NOW
BOOKING REQUEST
PROPERTY MAP
PROPERTY FEATURES:
Construction Area: 95m2
Equipped Kitchen
Satellite TV
Balcony
Cable TV
Terrace
Hairdryer
Iron & Ironing Board
Walking distance to amenities
Close to Beach
Close to Town
Coffee Maker
Microwave
Walking distance to the beach
Washing Machine
WiFi Internet Access
Entertainment: Dvd Player, International Tv Channels
Availability
September 2023
S
M
T
W
T
F
S
1

2

3

4

5

6

7

8

9

10

11

12

13

14

15

16

17

18

19

20

21

22

23

24

25

26
27
28
29
30
October 2023
S
M
T
W
T
F
S

1

2

3

4

5

6

7

8

9

10

11

12

13

14

15

16

17

18

19

20

21
22
23
24
25
26
27
28
29
30
31
November 2023
S
M
T
W
T
F
S
1
2
3
4
5
6
7
8
9
10
11
12
13
14
15
16
17
18
19
20
21
22
23
24
25
26
27
28
29
30
December 2023
S
M
T
W
T
F
S
1
2
3
4
5
6
7
8
9
10
11
12
13
14
15
16
17
18
19
20
21
22
23
24
25
26
27
28
29
30
31
January 2024
S
M
T
W
T
F
S
1
2
3
4
5
6
7
8
9
10
11
12
13
14
15
16
17
18
19
20
21
22
23
24
25
26
27
28
29
30
31
February 2024
S
M
T
W
T
F
S
1
2
3
4
5
6
7
8
9
10
11
12
13
14
15
16
17
18
19
20
21
22
23
24
25
26
27
28
29
March 2024
S
M
T
W
T
F
S
1
2
3
4
5
6
7
8
9
10
11
12
13
14
15
16
17
18
19
20
21
22
23
24
25
26
27
28
29
30
31
April 2024
S
M
T
W
T
F
S
1
2
3
4
5
6
7
8
9
10
11
12
13
14
15
16
17
18
19
20
21
22
23
24
25
26
27
28
29
30
May 2024
S
M
T
W
T
F
S
1
2
3
4
5
6
7
8
9
10
11
12
13
14
15
16
17
18
19
20
21
22
23
24
25
26
27
28
29
30
31
June 2024
S
M
T
W
T
F
S
1
2
3
4
5
6
7
8
9
10
11
12
13
14
15
16
17
18
19
20
21
22
23
24
25
26
27
28
29
30
July 2024
S
M
T
W
T
F
S
1
2
3
4
5
6
7
8
9
10
11
12
13
14
15
16
17
18
19
20
21
22
23
24
25
26
27
28
29
30
31
August 2024
S
M
T
W
T
F
S
1
2
3
4
5
6
7
8
9
10
11
12
13
14
15
16
17
18
19
20
21
22
23
24
25
26
27
28
29
30
31
Enquire about this property / Booking Request