Quinta do Monte - Luxury Secluded Villa, 5 minutes from Praia da Luz Beach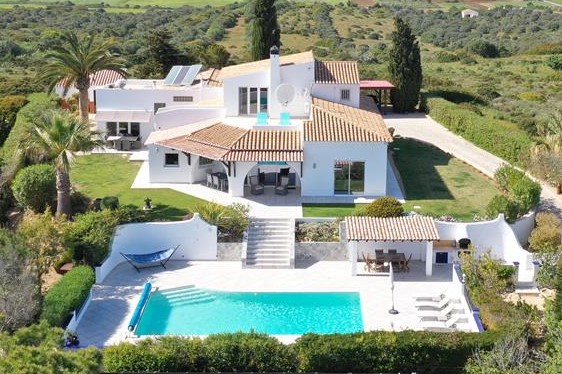 Fantastic and unique traditional 4 bedroom villa, situated on a hillside with a magnificent sea view!
Beautiful traditional villa of high quality, recently renovated for even more comfort.

Surrounded by a beautiful extensive garden of mature trees and plants with new terraces, a serpentine driveway leading to the car park welcomes you at the main entrance.

The quality of this villa, spread over different levels, is evident from the moment you enter.

This very well maintained property invites you from the entrance hall into the main part of the house, its large living room, separate dining room, study, fully equipped kitchen with all high quality integrated appliances.

In total there are 4 double en-suite bedrooms plus a room with small double bed off one of them.

On the left wing are two spacious and bright bedrooms with fitted wardrobes, both with en-suite bathrooms, offering direct access to the terraces and the pool area.

On the first floor is the large spacious suite with en-suite bathroom and leading to a private roof terrace with recently redone exterior cladding, offering absolutely stunning open sea views over the village of Luz to Burgau.

On the right wing of the house, adjoining the main house, on the ground floor, there is the small apartment consisting of a double bedroom, a kitchenette and a shower-room , all very nicely decorated. The villa also has a laundry room and a utility room.

All the terraces around the salt water swimming pool have been recently redone in a contemporary and bright style. This area is very inviting and still offers a nice barbecue area and a covered summer dining room.


From:
€1,800/week
RATES:
Low Season: €1,800/week
Mid Season: €2,100/week
High Season: €3,000/week
Peak Season: €6,600/week
Nº Licença Alojamento:
121027/AL
Nº Licença Habitação:
32/85
GPS (decimal degrees):
37.082745, -8.766570
GPS (dms):
+37º 4' 57.882'', -8º 45' 59.652''
ENQUIRE NOW
BOOKING REQUEST
PROPERTY MAP
ENERGY RATING: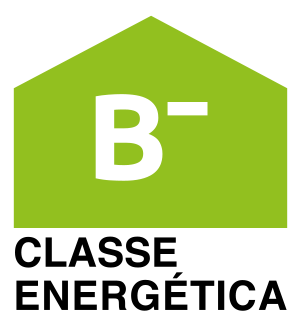 PROPERTY FEATURES:
Construction Area: 297m2
Fenced
Air Conditioning
Roof Terrace
Automatic Irrigation
BBQ
Swimming Pool: Private
Terrace
Heating: Central
Video Entry System
Iron & Ironing Board
View: Country, Sea
Microwave
Dishwasher
Washing Machine
Double Glazing
Electric Gate
WiFi Internet Access
En-suite bathroom
Parking: Carport
Availability
February 2023
S
M
T
W
T
F
S

1

2

3

4

5

6

7

8

9

10

11

12

13

14

15

16

17

18

19

20

21

22

23

24

25

26

27

28
March 2023
S
M
T
W
T
F
S

1

2

3

4

5

6

7

8

9

10

11

12

13

14

15

16

17

18

19

20

21

22

23

24

25

26

27

28

29

30

31
April 2023
S
M
T
W
T
F
S

1

2

3

4

5

6

7

8

9

10

11

12

13

14

15

16

17

18

19

20

21

22

23

24

25

26

27

28

29

30
May 2023
S
M
T
W
T
F
S

1

2

3

4

5

6

7

8

9

10

11

12

13

14

15

16

17

18

19

20

21

22

23

24

25

26

27

28

29

30

31
June 2023
S
M
T
W
T
F
S

1

2

3

4

5

6

7

8

9

10

11

12

13

14

15

16

17

18

19

20

21

22

23

24

25

26

27

28

29

30
July 2023
S
M
T
W
T
F
S

1

2

3

4

5

6

7

8

9

10

11

12

13

14

15

16
17
18
19
20
21
22
23
24
25
26
27
28
29
30
31
August 2023
S
M
T
W
T
F
S
1
2
3
4
5

6

7

8

9

10

11

12

13
14
15
16
17
18
19
20
21
22
23
24
25
26
27
28
29
30
31
September 2023
S
M
T
W
T
F
S
1
2
3
4
5
6
7
8

9

10

11

12

13

14

15

16

17

18

19

20

21

22

23

24

25

26

27

28

29

30
October 2023
S
M
T
W
T
F
S

1

2

3

4

5

6

7

8

9

10

11

12

13

14

15

16

17

18

19

20

21

22

23

24

25

26

27

28

29

30

31
November 2023
S
M
T
W
T
F
S

1

2
3
4
5
6
7
8
9
10
11
12
13
14
15
16
17
18
19
20
21
22
23
24
25
26
27
28
29
30
December 2023
S
M
T
W
T
F
S
1
2
3
4
5
6
7
8
9
10
11
12
13
14
15
16
17
18
19
20
21
22
23
24
25
26
27
28
29
30
31
January 2024
S
M
T
W
T
F
S
1
2
3
4
5
6
7
8
9
10
11
12
13
14
15
16
17
18
19
20
21
22
23
24
25
26
27
28
29
30
31
Enquire about this property / Booking Request